The Strengthening Protections for Social Security Beneficiaries Act of 2018 (
H.R. 4547
), introduced by Reps. Sam Johnson (R-TX) and John Larson (D-CT), was signed into law this month,
Financial Regulation News
reports. The authors of the bill say the goal is to modernize the representative payee program. If you are not familiar with the program, below you will find a quick breakdown.
The
representative payee program
was authorized by Congress in 1939 allowing the Social Security Administration(SSA) to make benefit payments to another person or organization if the beneficiary is incapable handling their finances. Payees are usually family members, such as parents or spouses. Around 6.2 million people or organizations serve as representative payees on behalf of some 8 million beneficiaries, according to the Social Security Administration's Office of the Inspector General.
"This new law is great news for the millions of Social Security beneficiaries who rely on a representative payee to help them manage their benefits," said Johnson. "Not only will it provide much-needed accountability for the representative payee program, but it also puts measures into place that ensure newly selected representative payees are qualified and trustworthy. I thank Congressman Larson for working with me on this important legislation that will ensure Americans – from children, seniors, to individuals with disabilities – will have more peace of mind when it comes to having a representative payee they can trust."
Protections for Social Security and SSI Recipients
The Strengthening Protections for Social Security Beneficiaries Act includes other provisions that SSA program beneficiaries will find of interest. H.R. 4547 disqualifies individuals from serving as representative payees if they have specific types of criminal convictions, the
Disability Scoop
reports. It should come as little surprise that the bill bars individuals who have representative payees themselves from fulfilling the same role for another beneficiary; if a person can't manage their benefits then it makes sense that they can't handle others. SSA beneficiaries will make a list of people who they would prefer handling their payments, the top of the list would be their first choice.
The law also requires protection and advocacy groups in each state to conduct performance reviews on payees and report to the administration. H.R. 4547 does away with a previous mandate requiring parents or spouses (living with a beneficiary) complete an annual accounting form.
"For too long dishonest representative payees have exploited and abused people with disabilities without fear of being discovered," said Curt Decker, executive director of the National Disability Rights Network, an umbrella group for the nation's protection and advocacy organizations. "That stops today. We are thrilled to see that Congress has acted to protect the more than 8 million Americans who currently have representative payees."


Celebrating National Social Security Month
It is fitting that this new bill was signed during National Social Security Month.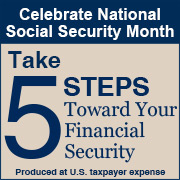 SSDI and SSI Attorney
If the SSA denied your application for Supplemental Security Income (
SSI
) or Social Security Disability Insurance (
SSDI
), or you are applying for benefits for the first time, The Driscoll Law Corporation can help. Attorney Stephanie Merritt Driscoll can help you or a loved one appeal the SSA's decision and get the benefits you require. Please
contact
our office today.